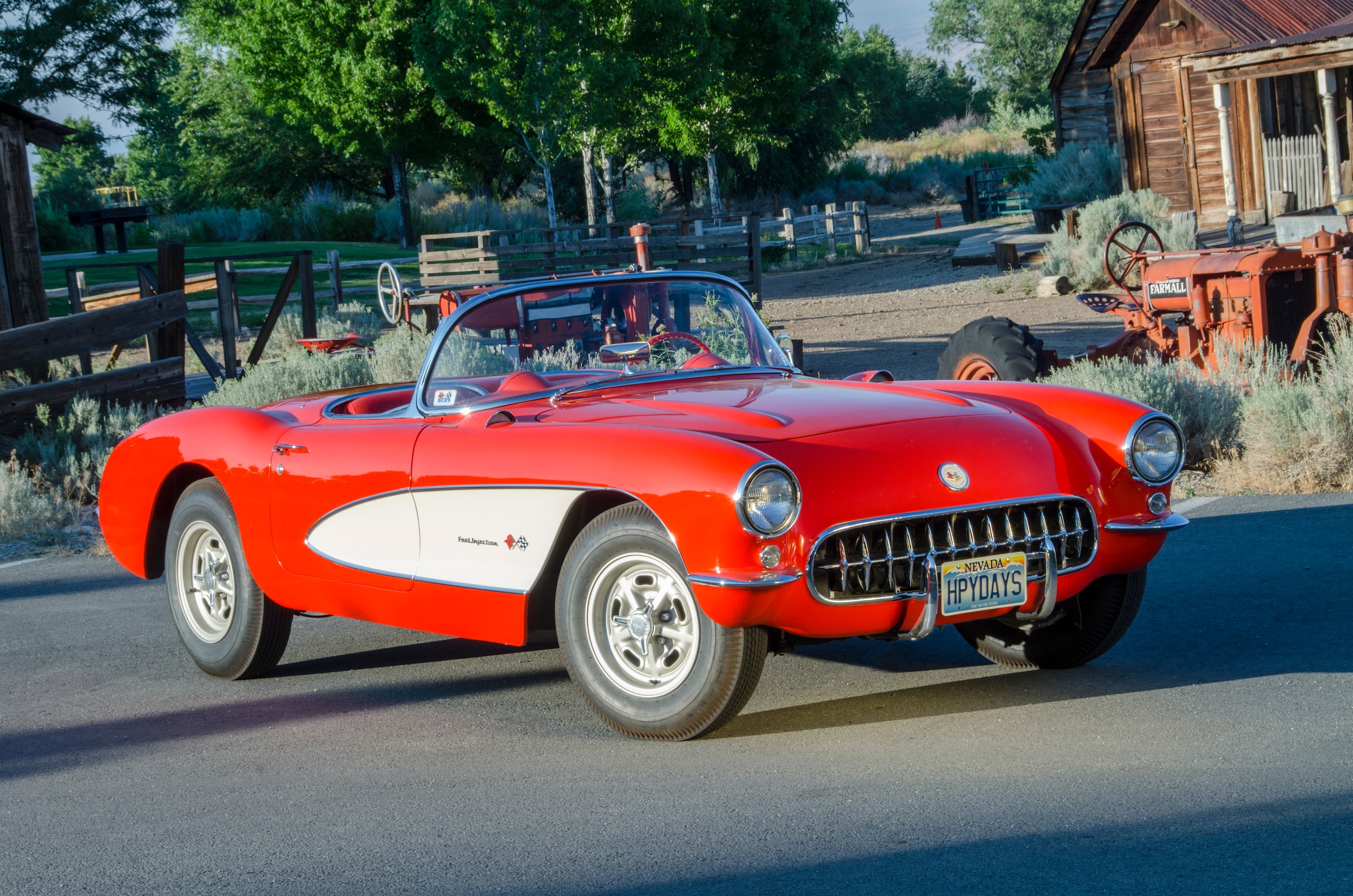 First of a Series of Five Pilot Competition Test-Fleet Corvettes
Before the "Airbox" Corvette, Five Fuel Injection Corvettes with Heavy Duty Brakes and Suspension, and 4-speed transmissions were assembled at the St. Louis GM plant in February of '57. 

 
Zora's specially built "Field Test Fleet"
Offered for sale is an impressive example of an ultra-rare 1957 Corvette originally assembled with Fuel Injection (RPO-579C), Heavy Duty Brakes and Suspension (RPO-684) and T-10 four-speed (RPO-685). This Corvette (2276) includes rear leaf-springs with engineering part numbers not yet available on GM's part list which add to the mounting proof that this Corvette was part of Zora's special "Competition Test-Fleet." 
During this time, GM's engineering department was busy pushing build orders at warp speed. Just before, in 1956, Zora Arkus-Duntov and crew readied the Corvette Super Sport for debut at the New York Auto Show in December. Chevrolet's first purpose built race car was slated to run at Sebring in 1957. Many of the parts designed to go on the SS needed testing and trusted racers to return feedback on their performance. In order to do so, not only did GM need to design, manufacture and procure the parts necessary, they needed to fit them to "Test Fleet" Corvettes. 
The rear leaf springs, an engineering 0 dash part number, was fitted to this Corvette in St. Louis before becoming available to the public. How these Corvettes, and their engineering parts, ended up in the hands of GM friends and racers, is somewhat unclear. 
Mack Yates, racer and co-owner of Barford Chevrolet of Clayton, Missouri (one mile from the St. Louis plant), ordered the second Competition Test-Fleet Corvette #2281. Yates' Corvette included fuel injection, HD brakes, and a four-speed which was SCCA raced from '57-'59. As one of the largest new Corvette dealers in the U.S., Barford Chevrolet's close proximity to GM's St. Louis plant, and special-order service specializing in high performance, shed light on Zora's goal for real-world performance testing and feedback.
Ken Kayser, a well respected researcher and author with access to Zora's personal engineering files, verifies this "small 'Pilot' run of eight to twelve 'Competition Corvettes'" in St. Louis. He states in his book Legend or Myth & Zora's Marque of Excellence Volume III - The History of Zora's "Ramjet" Fuel Injection,
The "Competition Corvette Pilot Run" with VINs in the E57S102030 to S102325 range incorporated the following RPOs:
RPO-684 HD Brakes & Suspension
RPO-685 Borg-Warner T-10 four-speed
RPO-677, 678 & 679 Positraction with 3.70, 4.11 & 4.56 axel ratios
RPO-276 Kelsey-Hayes Co. 15x5.5" Steel Wheels 3748348
RPO-469C 270 HP V8 possibly including the 8,000 RPM AC 1548680 Tachometer
Upgrades to the RPO-579C 283 HP V8 including the 8,000 RPM AC 1548680 Tachometer
This "Field Test Fleet" was assembled prior to availability of Corvette bodies with rocker panel ducting to the rear wheels. Most of Zora's Field Test Corvettes were originally painted Polo White with a red interior.
Mike Hunt, originator of Research Project 1956/1957, had what appeared to be unprecedented access to information relating to Corvettes assembled in St. Louis. Hunt "maintained for thirty years that Chevrolet St. Louis assembled two RPO-579C Fuel Injected Corvettes for conversion in to fresh Sebring Racers, in the VIN range S102000 to S102200."
Internal GM Engineering Build Orders surfaced verifying the activity relating to the Sebring race in '57. One build order in-particular, dated January 14, 1957, requests competition brakes for Sebring Race. Mike Hunt's letter to Rich Mason mentions, "prior to the airbox, there had to be some H.D. non-airbox cars. Chevrolet was competition developing 1956s, so 1957 was just a continuation." Hunt also states, "they almost definitely built some 'special' or 'slightly special' cars. Some were probably sold via normal channels; some were probably done for Chevrolet people and/or their favorite competition people, or buyers who managed to get the cars they wanted." This explains Yates' special order Corvette 2281. 
In '89, owner of Yates' Corvette 2281, Raymond Masciarella, corresponded with Hunt discussing RPO-581 Corvettes 2276, 2281, and 2361; all built in February in St. Louis. Hunt explained to Mason, previous owner of Corvette 2276, that there was something to that VIN range and the evolving RPO and H.D. components weren't "black and white." Testing and revisions to race spec'd parts were frequent.
The Corvette Restorer Magazine posed the question in 1986, "How about an RPO-579B Corvette (283 horsepower without the air box) with the 684 option?" In the article "1957 Corvette RPO 579E & 684" it mentions "at least one example exists today." Walt Zoern purchased Corvette 2361 in Southern California apparently light on the usual Corvette options. It had no heater and no two-tone paint but had fuel injection, the H.D. brakes and suspension. More curious is Zoern states that Corvette 2361 "was apparently delivered new in California with no top as there were no signs of either a 1957 soft top or hard top ever having been installed." Zoern reached out to Zora Arkus-Duntov regarding the possibility of a Corvette manufactured without a top. Zora explained to Zoern, "that several Corvettes for racing were sent to California without tops" and wondered if Corvette 2361 had some "crudely" made parts. Zoern observed the parts but thought they were "home-made." Zora told him "they were probably "factory."
History
Corvette 2276 may have been sold through a dealership in Southern California like Corvette 2361. However, the original owner of Corvette 2276 is unknown. Discovered during restoration were two repaired cutouts for a roll bar, indicating that Corvette 2276 was competitively raced, which supports the research behind this special "Test Fleet" being used and tested for competition. 
After locating and corresponding with several of the previous owners of Corvette 2276, all recalled it being a fuel injected car with big brakes. 
Mike Pillsbury, known as "famed Corvette Hunter" by Motortrend, was "very well known in Corvette circles for his uncanny ability to find old Corvettes, particularly race cars." "One of his great finds was on of the '60 Cunningham Le Mans cars, which he literally discovered in a junkyard."
Pillsbury owned Corvette 2276 in 1968, but subsequently sold it. It was white with a white top at that time. Mason, previous owner of the Chevrolet SR-2 (Amelia Award winner at Amelia Island Concours D'Elegance), asked Pillsbury to find him a fuel injected car with big brakes. Pillsbury tracked down his previous Corvette. Mason meticulously restored Corvette 2276 to its current glory in 1990. No instruction was given to restore the chassis, which appears to be in original condition. It's currently fitted with Halibran 15"x5.5" wheels. 
Here is a chance to own a very rare and highly collectible 1957 Corvette.